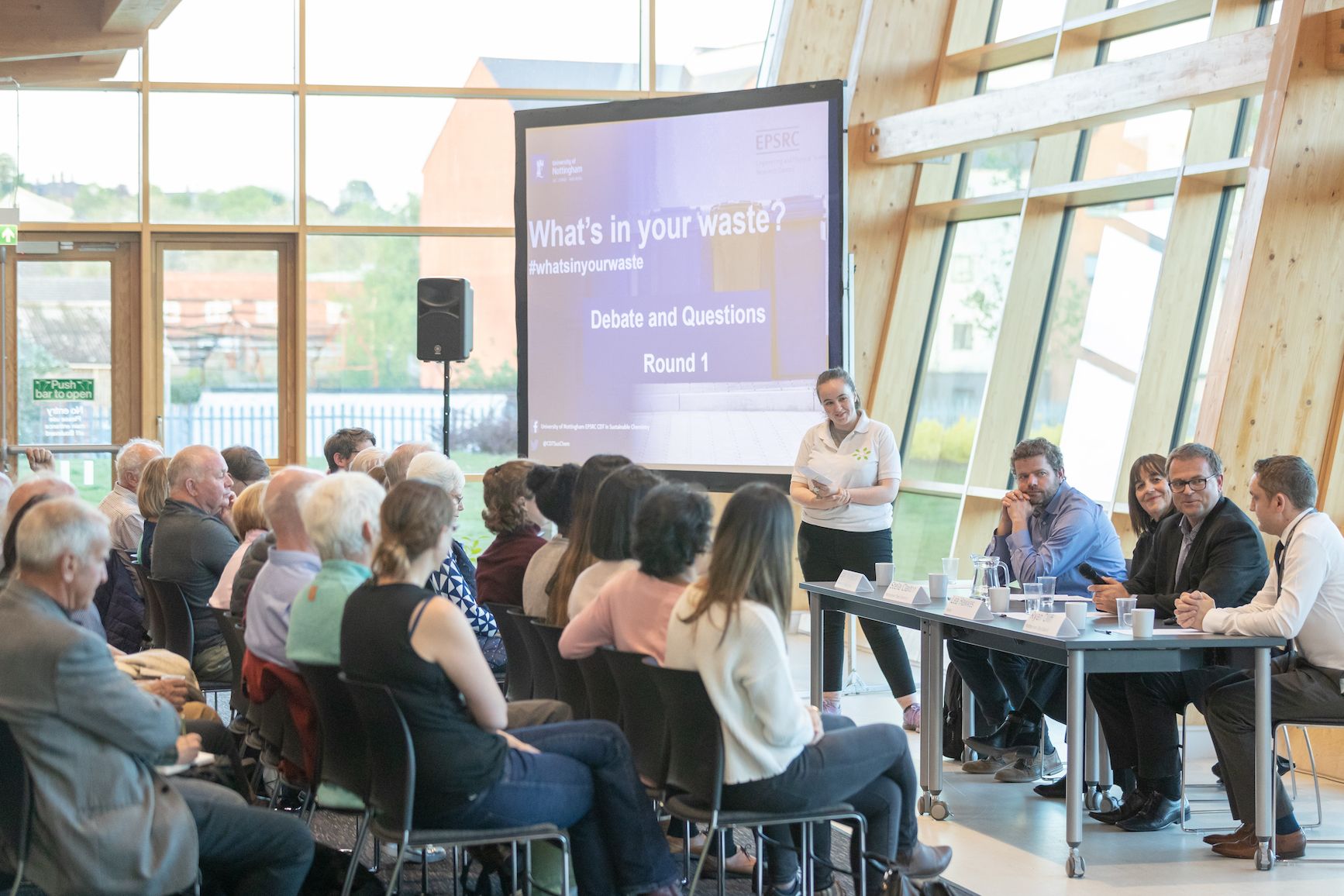 by Jennifer Okoye, Claire Stringer and Alison McLellan
On Thursday 25th April, approximately 60 members of the general public arrived at GSK Centre for Sustainable Chemistry's Winter Garden to participate in 'What's In Your Waste, a debate format event designed to discuss vital questions about issues of sustainability. Key topics for improving the environment, such as innovations in the manufacturing and recycling of plastic products, life cycle analysis of common household items and the importance of sustainable fashion and waste management issues were discussed. It was the CDT's very own take on Question Time, organised by students from across all cohorts: Jenny Okoye, Claire Stringer, Aki Kitagawa and Alison McLellan.
The panel consisted of four notable experts from academia, industry and the council; Jon McKechnie (Assistant Professor of Sustainable Process Technologies, UoN), Lea Hawkes (General Manager at Veolia), Stella Claxton (Senior lecturer at NTU Fashion Management) and Ryan Oliff (Waste and Recycling team leader at Nottingham Council). The panellists were all on hand to answer challenging questions from the audience for an insightful and thought-provoking evening.
The event was chaired brilliantly by Alison McLellan of cohort 5, who mastered the art of gauging the audience's interest and tailoring the night to them. "Being able to help organize, run and chair an event like this is not something I expected in my 1st year as a PhD student, but the whole process has been great fun and a brilliant opportunity to develop lots of new skills. The audience on the night were really positive and engaged, helping to make my evening memorable."
The fun didn't stop in the break time as the audience had an opportunity to sample some break time activities. On stand one, with a focus on life cycle analysis, was Sarah Farthing with a visual display of how much CO2 is released in the manufacture of different types of bottles. Jacob Smith and Michael Green, students from the CDT, provided a prototype of their Green Chemistry game on stand two. Their game aims at helping all members of the public understand the importance of sustainable synthesis. Stand three was led by Ryan Larder, Ana Pacheco and Rhona Savin from the Howdle group with a demonstration on how plastics are separated during waste management.
We had some great feedback from our attendees who said they loved having the opportunity to probe the panellists with questions, discuss waste awareness with like-minded people, and take part in the interactive activities. The audience also gave us a lot of ideas about which topics they would like to debate in the future, including waste water management and how to eat more sustainably.