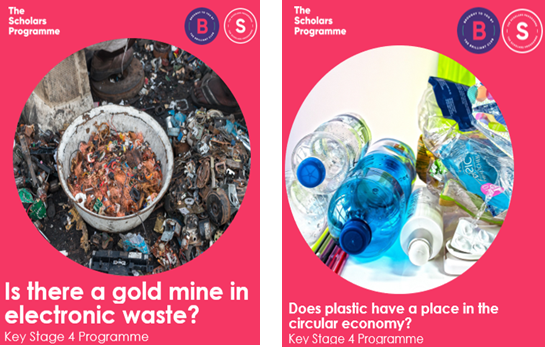 The Brilliant Club is a charity that is working with PhD students to help less advantaged students access university education. Their scholar's programme enables PhD students to deliver self-designed courses related to their research. The school students are given several university-style tutorials, complete a final assignment with university grading and go on a visit to a university. Hattie Fowler (Cohort 6) and Morag Nixon (Cohort 7) have both used this platform to provide education to secondary school students about their sustainable research projects. Below they have answered a few questions detailing this exciting outreach experience and some of the key benefits.
What was your self-designed course about?
Hattie: I designed my course around the first-year group theme 'Towards a Circular Economy', but with a large focus on electronic waste. The students really engaged in applying sustainable thinking to everyday devices and devising solutions to how they could make more sustainable choices.
Morag: My PhD research project is about plastic biodegradation, so I designed a course about the plastic waste problem, titling it "Does plastic have a place in the circular economy". The students really enjoyed learning about a topical and sustainable subject.
Who did you teach?
Hattie: My programme started online due to the pandemic, but the final sessions were run in person at David Nieper Academy in Alfreton. I taught a range of students from Year 7 – Year 10 and each session was designed to be 'tutorial-like' so I taught 6 students at a time. I also had the opportunity to run extra co-curricular sessions within the school, which were larger sessions of 15 pupils.
Morag: I taught my programme to a small group of Year 9 students at Toot Hill secondary school in Bingham.
What skills did you develop?
Hattie: I developed my ability to present academic research and complex ideas to a lay audience of younger people, whilst also keeping them engaged and excited about the topic.
Morag: The programme allowed me to learn teaching techniques and in particular developed my time management skills as this was an extra commitment to my PhD schedule.
Would you recommend working with the Brilliant Club?
Hattie: It was a great opportunity to take part in a paid outreach position for an extended period of time and I really enjoyed the flexibility of being able to design my own programme.
Morag: Definitely! It gave me the opportunity to expand my skillset further in particular by learning to communicate my research to a different audience. It also allowed me to explore teaching as a future career path after my PhD.