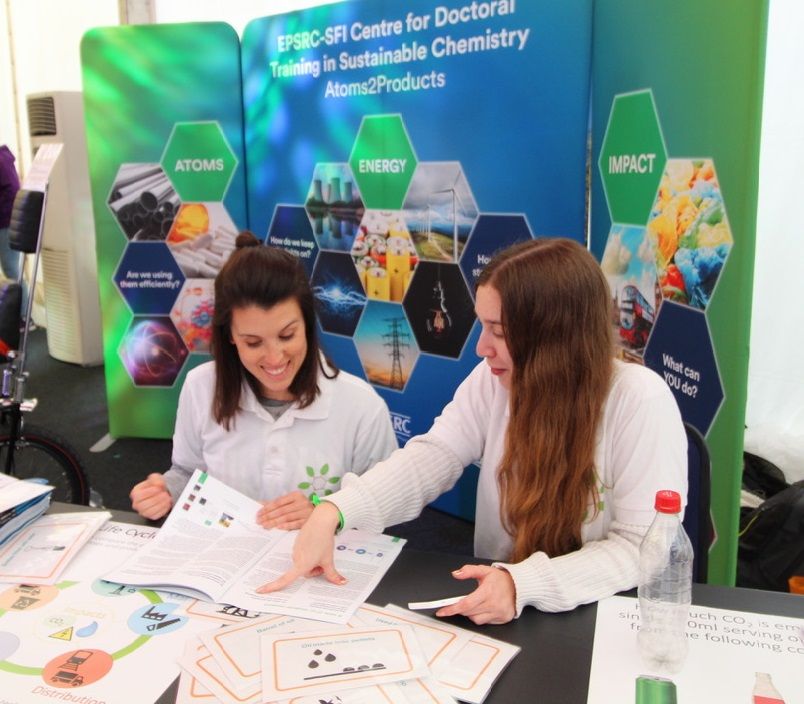 June has been an exciting month for public engagement and science communications at the CDT in Sustainable Chemistry, as the students participated in one of the UK's leading science public engagement events - Cheltenham Festival of Science.
This year's festival theme was Wellness and the CDT stand entitled Atoms, Energy and Impact, which focused on different environmental challenges was a perfect fit for this theme.
Following the months of discussions, idea development, concept design and working with external suppliers, CDT students have created a new and engaging outreach stand, which incorporates a series of interactive activities aimed at a range of different audiences.
The activities included the life cycle assessment of a plastic bottle challenge and a discussion about the environmental impact of different drink packages, and a sustainable chemistry-themed competitive board game. The visitors also had a unique opportunity to pedal an iconic Nottingham manufactured retro bike, in order to generate energy, which powers light. Whilst cycling, the participants engaged in a conversation about renewable energy, sustainable energy storage and their application in everyday life.
It was a fantastic opportunity for CDT students to discuss Sustainable Chemistry challenges with the general public.