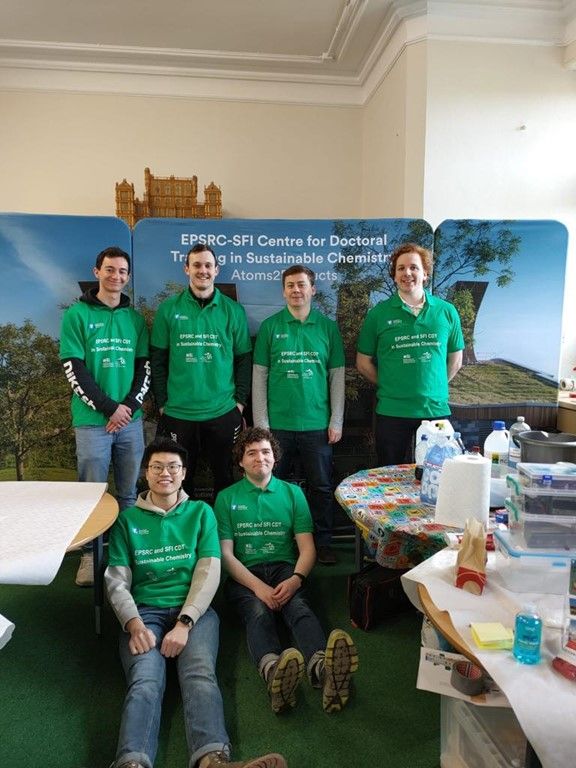 On Saturday the 11th of March 2023 Cohort 9 represented the CDT at Science in the Park – an annual outreach event run for the public at Wollaton Hall. Their stall had three activities.
Using a classic Raleigh chopper Mk2 hooked up to a motor, two car batteries and some 3D-printed models of notable buildings in Nottingham, they were able to demonstrate how intermittent renewable energy sources can be used to charge the energy grids which power our homes. This worked by getting volunteers to pedal the bike fast enough to charge the car batteries which light up the 3D-printed models!
In the colourful cabbage chemistry activity, red cabbage juice was used as a pH indicator and tested using different household products, including baking powder, lemon juice and vinegar. Although this also turned into an impromptu demonstration of the volcano experiment by mixing the baking powder and vinegar together with a little bit of soap! Both activities were popular with the younger children, allowing them to get stuck in with chemistry and mix lots of things together!
The last activity was based on one of the cohort 9's themes: Heat To Power. Alex, Zichen and Olly cleverly built a homemade thermoelectric device in which volunteers used the heat from their hands to power some LED lights. This was by far the most popular stall, with parents and children both amazed! And it was a great way to share current research going on in the CDT with the public.
Overall it was a super day, and a very rewarding experience for the students!
Thank you to Louise and Sam Tang for helping to organise Cohort 9's place at the event!