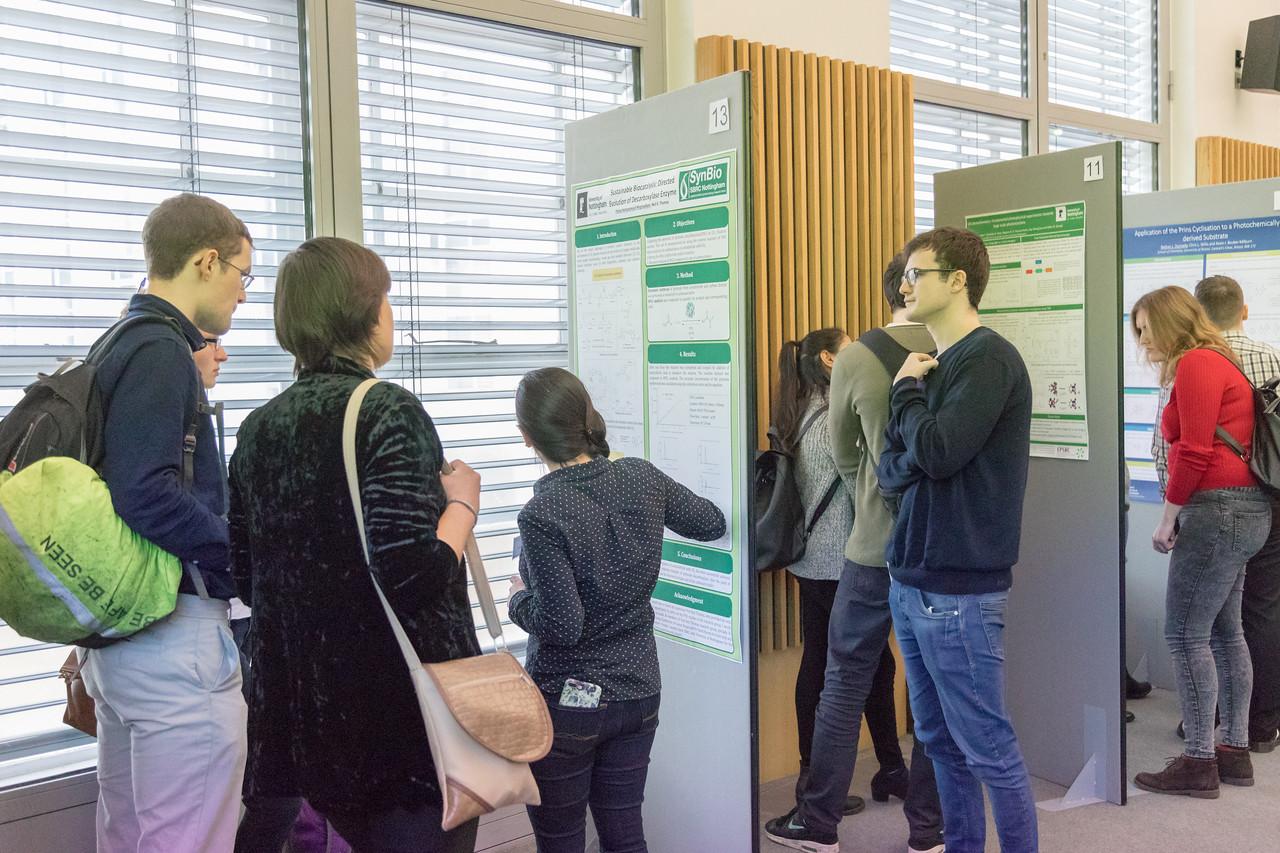 Following the success of our last multi-CDT event, which took place in February 2016, there was a strong drive and motivation to co-organise another event, which would benefit not only the students from the host institutions, but also those from other Universities.
The EPSRC CDT in Sustainable Chemistry and the EPSRC CDT in Chemical Synthesis, University of Bristol came together to co-organise the Green Chemistry Futures Symposium, which took place in Nottingham on 6 February 2018.
The event attracted an audience of over 80 delegates from the host Centres as well as neighbouring Universities including Leicester, Loughborough and Birmingham.
The participants heard four excellent lectures: Designing new strategies for fluorination by Dr Alison Stuart, University of Leicester; Recent advances in medicinal chemistry and asymmetric catalysis by Prof Patrick Guiry, University College Dublin; Electrification of synthesis and other flow chemistries by Prof Thomas Wirth from Cardiff University; and Organic synthesis towards a sustainable society by Prof Shu Kobayashi from the University of Tokyo. Closing remarks were given by the University of Nottingham's Prof Sir Martyn Poliakoff.
The event also featured a vibrant lunchtime poster session featuring 29 posters by PhD students from a range of disciplines including Chemistry, Engineering and Biosciences. The wining poster presentations were Yiming Zhao, University of Birmingham (1st Prize) for his poster entitled '1,4,5- and 1,5- Phosphino-Triazole Ligands for Palladium-Catalysed Cross-Coupling' and Jennifer Samphirea, University of Bristol (2nd Prize) for her poster entitled 'Bio-Inspired Glycan-NanoProbes as Antimicrobial Labels'
The Symposium was a great success and has received excellent feedback from both the delegates and speakers.