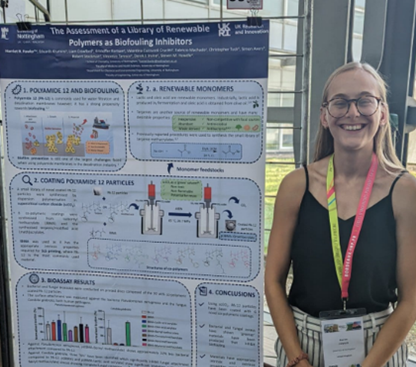 During the summer of 2022, myself and Philippa Jacob (Cohort 6) had the incredible opportunity to attend the 2022 Bordeaux Polymer Conference. This was the first major post-Covid event which offered the opportunity to disseminate cutting-edge research in polymer science. The conference covered all topics in polymer science, ranging from macromolecular engineering, sustainable polymers and interactions of polymers in life sciences and electronics.
The programme featured many exciting plenary and invited lectures from world-leading experts in polymer research, such as Professor Marc Hillmyer, Professor David Haddleton, Professor Charlotte Williams and Professor Kris Matyjaszewski, to name a few. Our head of school, Professor Steve Howdle, was an invited speaker, and alongside Vincenzo Taresco they both gave fantastic talks which showcased the polymer research being done at the University of Nottingham.
Pippy and I also had the opportunity to present our current research during the poster sessions, which was an incredible experience being surrounded by so many distinguished researchers and started some thought-provoking discussions and future research opportunities.
We shared this fantastic experience with our research groups, and also had the opportunity to explore the sites of Bordeaux, featuring many networking opportunities over a glass of wine and cheese. Our conference experienced ended with a wonderful gala dinner at the Palais de la bourse.
During this event, we both had some incredible opportunities to network and begin future collaborations and inspire our own future research and beyond. The experience was truly unparalleled, and I would recommend to everyone.
by Harriet Fowler, Cohort 6