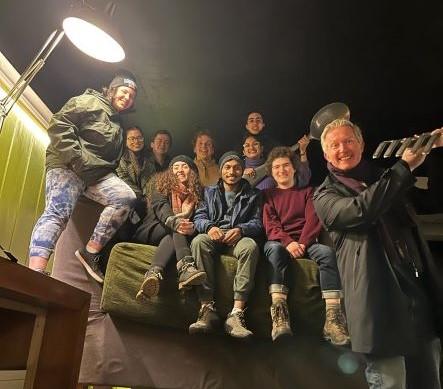 On the 3rd of December Cohort 9 travelled to Dublin for a week of activities as part of their first year CDT training. An early morning flight from East Midlands meant the group had to meet on campus on a cold winter morning at 4 am, however excitement for the week ahead meant everyone was in good spirits. Once arrived, they met with their partnering University College Dublin (UCD) cohort to undertake a team building activity before an official welcome dinner at a nearby pub. The team building activity involved building Lego models in groups, but with the catch of only one member having seen a picture of the models in question, and only certain members allowed to communicate with each other. Despite sounding very simple this task definitely tested communication skills, and patience in some cases!
Tuesday and Wednesday's activities consisted of attending the Bioeconomy Research Symposium Ireland, organised by BiOrbic. A range of speaker and poster presentations meant this was a good opportunity to see what research was being done by some of our fellow UCD students and by the wider BiOrbic community. This was a great way to connect with researchers undertaking projects in similar research areas to our own, as well as speak to students carrying out research in different areas.
On Thursday morning, the student on the BEAST and Heat2Power themes attended a Life Cycle Assessment Workshop, whilst those on the TRANSFER theme received some training on commercial flow chemistry equipment from the Baumann research group. With the afternoon free, the students then headed into the city centre for some Christmas shopping and notably a trip to Dublin's very own Leprechaun Museum!
Finally, the students attended the symposium on Recent Advances in Synthesis and Chemical Biology on Friday. This was an annual event organised by UCD. The snow and cold weather meant there was some disruption to flights from Dublin Airport, but after a chaotic few hours the students managed to get a delayed flight home and arrive back in Nottingham in the early hours of Saturday.
Alex said his highlights of the week included the group debate regarding the importance of a sustainable, circular bioeconomy at the BiOrbic symposium on Wednesday morning, as well as trying to get everyone onto the big chair at the Leprechaun Museum! (See photo below). Bhumi's highlight was experiencing snow for the first time ever on the Wednesday evening! Olly particularly enjoyed getting to meet everyone in the BiOrbic cohort and hear about what they've been up to.
A big thank you to Louise, and Melaine from UCD, for organising the trip!