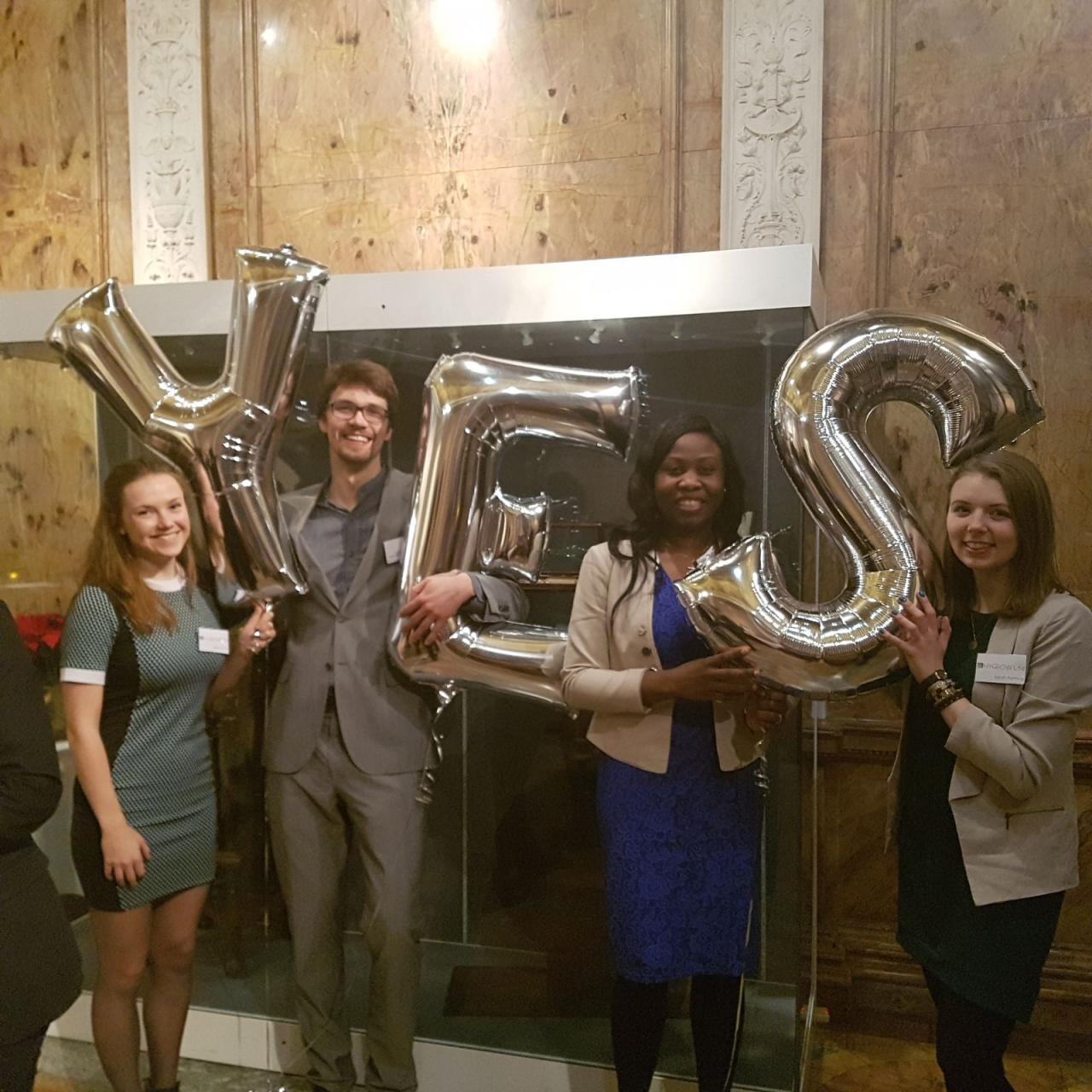 CDT students Rhona Savin and Sarah Farthing, along with Bumni Omorotionmwan and Francois Seys from the Synthetic Biology Research Centre participated in the annual 22nd YES (Young Entrepreneurs Scheme) competition, which took place during the period between September and December 2017. YES is designed to develop business awareness and an understanding of entrepreneurship in UK postgraduate students and postdoctoral researchers. The participating teams are required to set up a hypothetical company and develop an innovative product which they present to a panel of experts acting as venture capitalists. Going under the name of Hygrow Ltd, the Nottingham team developed a hypothetical product called Chloroblast - a chemical that enhanced crops' natural protection against drought.
During the first part of the competition the team participated in a three day plant, microbial and environmental workshop at Syngenta and with the support of relevant mentors, they developed their business idea. This was presented to a panel of judges who acted as venture capitalists and the team qualified for the UK finals.
On their return to Nottingham, the team worked with a number of experts in finance, intellectual property law and start up innovations to prepare for the UK final, which took place at the Royal Society in London. They wrote a business plan and delivered a convincing pitch for a hypothetical investment to a panel of judges including JF Crilly Associates, Syngenta, P&G, GSK, James Cowper Kreston and Potter Clarkson.
Months of hard work paid off when the Hygrow team was crowned the winner in the Environment YES category and was also awarded Best Plant, Microbial and Environmental Business Plan sponsored by Syngenta. The key to Hygrow's success was that it was a truly multidisciplinary team, involving students from Chemistry, Engineering and Synthetic Biology and each team member brought their own unique set of skills and knowledge.
Participation in the YES competition enabled the students to further develop their entrepreneurial skills, with a particular focus on aspects such as product development, communication in a commercial setting, intellectual property, finance and management, which directly complement the training they receive as a part of their PhD programme. In addition, the programme facilitated an excellent networking opportunity enabling the students to meet a wide range of academics, representatives from industry and other professionals and to benefit from their extensive experience.
The team Hygrow would highly recommend the YES competition to all postgraduates.
Rhona Savin and Sarah Farthing