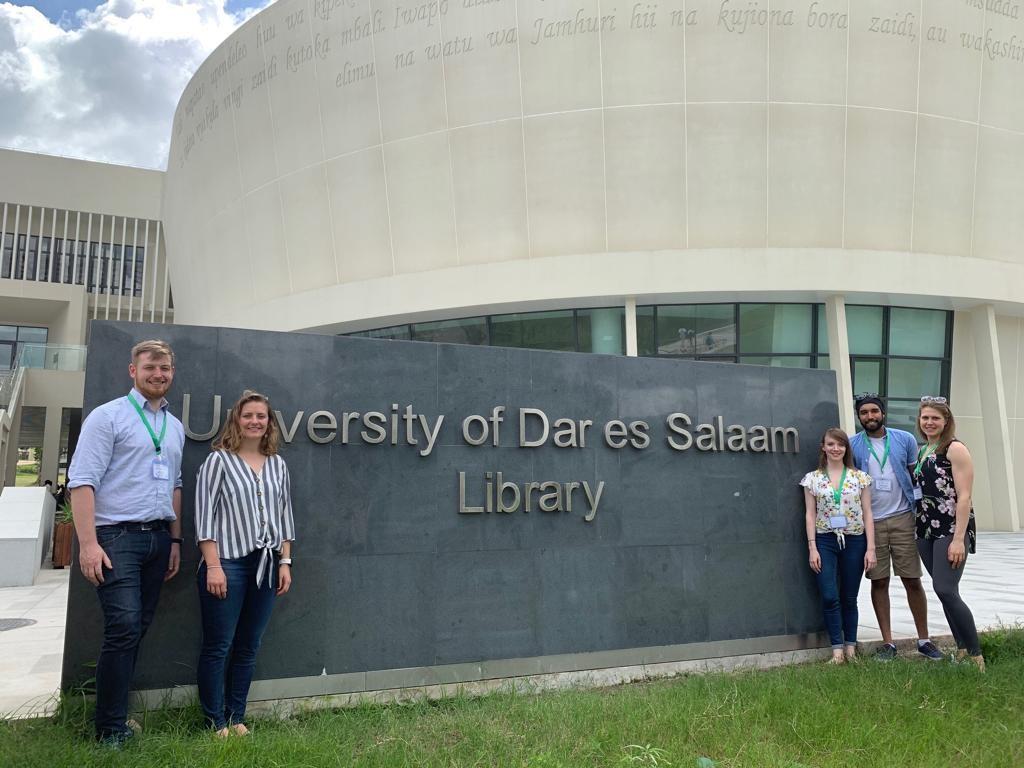 by John Ryan, Cohort 3, Faculty of Engineering
IUPAC for Africa - Postgraduate Summer School for Sustainable Chemistry
This summer, five students from the University of Nottingham's Centre for Doctoral Training in Sustainable Chemistry attended the IUPAC Postgraduate Summer School on Green Chemistry in Dar es Salaam, Tanzania. This is the first year that this summer school has been hosted in Africa. If you're interested in what this involved and whether you should come along to next year's school, read on!
Arriving
In one journey from Heathrow to Dar es Salaam via Dubai, we have become personally responsible for approximately a metric tonne of carbon dioxide emissions each. [1] This is roughly equivalent to about three and a half years of baseline human respiration, or the average PhD. [2] What drove us to make this trip is the prospect of lectures, workshops and networking.
We were met at the airport by two taxis, another few kilos of carbon dioxide [3] and an hour later we arrive at our new home for the week – the Seascape Hotel. It has sea, sand and sun to the front and forest in the back. The hotel was completely alcohol-free with a bright offering of a range of luminous soft drinks and fresh fruit juices.
Kick-off
And we're off. The starting bell, pistol and drum have been rung, fired and beaten, somewhat like the audience. After an extravagant opening ceremony, including an introduction by the Tanzanian Minister for Industry, Trade and Investment, the audience was thrown into the deep end. There were presentations from Qi-Feng Zhou, the IUPAC President, Siroj Loikov, of Phosagro and the director of the CDT for Sustainable Chemistry in Nottingham, Peter Licence. These presentations covered topics from Ionic liquids as alternative solvents to the periodic table of young researchers.[4] It was noted that both "Mr Sulfur" Xuefeng Jiang[5] and "Tin man" Emmanuel Chukwudalu Ohaekenyem[6] were in attendance. Of interest to young researchers is the Green Chemistry for Life grant.[7]
Presenters
Throughout the week various academics gave talks on a wide variety of topics. There was a broad range of expertise in attendance. Chris Brett from The University of Coimbra, the future president of IUPAC, spoke about electrochemistry and also made reference to the work of Phillip Jessop around "green solvents"[9] (Cyrene, NMP et al). Liliana Mammino from The University of Venda spoke about the impact computer modelling can have on synthesis. Neil Coville from The University of Witwatersrand, Johannesburg spoke about catalysis and the materials that go into their supports for photovoltaic applications. There were moving tributes to Egid Mubofu, the driving force behind this edition of the IUPAC Summer School, who sadly passed away last year. The highlight for me was the drive from the audience, there was always an extremely healthy questioning for the speakers after their presentations. This kind of interaction is the fundamental purpose of these events and the best measure of success!
Networking
Despite the very busy programme, there were plenty of opportunities to network between sessions. I met hundreds of fellow Chemists over the week with plenty of new contacts for collaborations! Talking to researchers from all over Africa about their work was the most valuable part of the summer school. We gained a valuable insight into the research themes that are prominent in Tanzania and it helped us to put our research into context. In terms of exposure for the CDT in Sustainable Chemistry, all our second and third-year students presented posters. I was excited to present my poster on Green Chemistry and Pyrolysis and Heather Damian on Utilising Polyoxometalates to Probe the Redox state of Peptides and Proteins. Catherine Peake won one of the best poster prizes for her poster entitled 'High Energy Density Electrolytes for Symmetric Redox Flow Batteries'. Catherine was also invited to give a presentation about her research.
Looking Forward

Next year the IUPAC Summer School promises to be another worthwhile event in terms of lectures and workshops, but most importantly it is a great opportunity for CDT students to interact with students from around the globe and make contacts for future careers.
[1] https://www.carbonindependent.org/sources_aviation.html
[2] https://www.globe.gov/explore-science/scientists-blog/archived-posts/sciblog/2008/08/11/release-of-carbon-dioxide-by-individual-humans/comment-page-1/index.html
[3] https://www.nextgreencar.com/emissions-calculator/toyota/hiace/
[4]https://iupac.org/100/pt-of-chemist/
[5] https://www.linkedin.com/in/xuefeng-jiang-58583b30/, https://youtu.be/hxbzT_fd01c
[6] https://www.linkedin.com/in/emmanuel-ohaekenyem-b2b41367/
[7] http://www.unesco.org/new/en/natural-sciences/science-technology/basic-sciences/chemistry/green-chemistry-for-life/how-to-apply
[8] https://pubs.rsc.org/en/content/articlelanding/2011/gc/c0gc00797h#!divAbstract
[9] https://pubs.rsc.org/en/content/articlelanding/2011/gc/c0gc00797h#!divAbstract