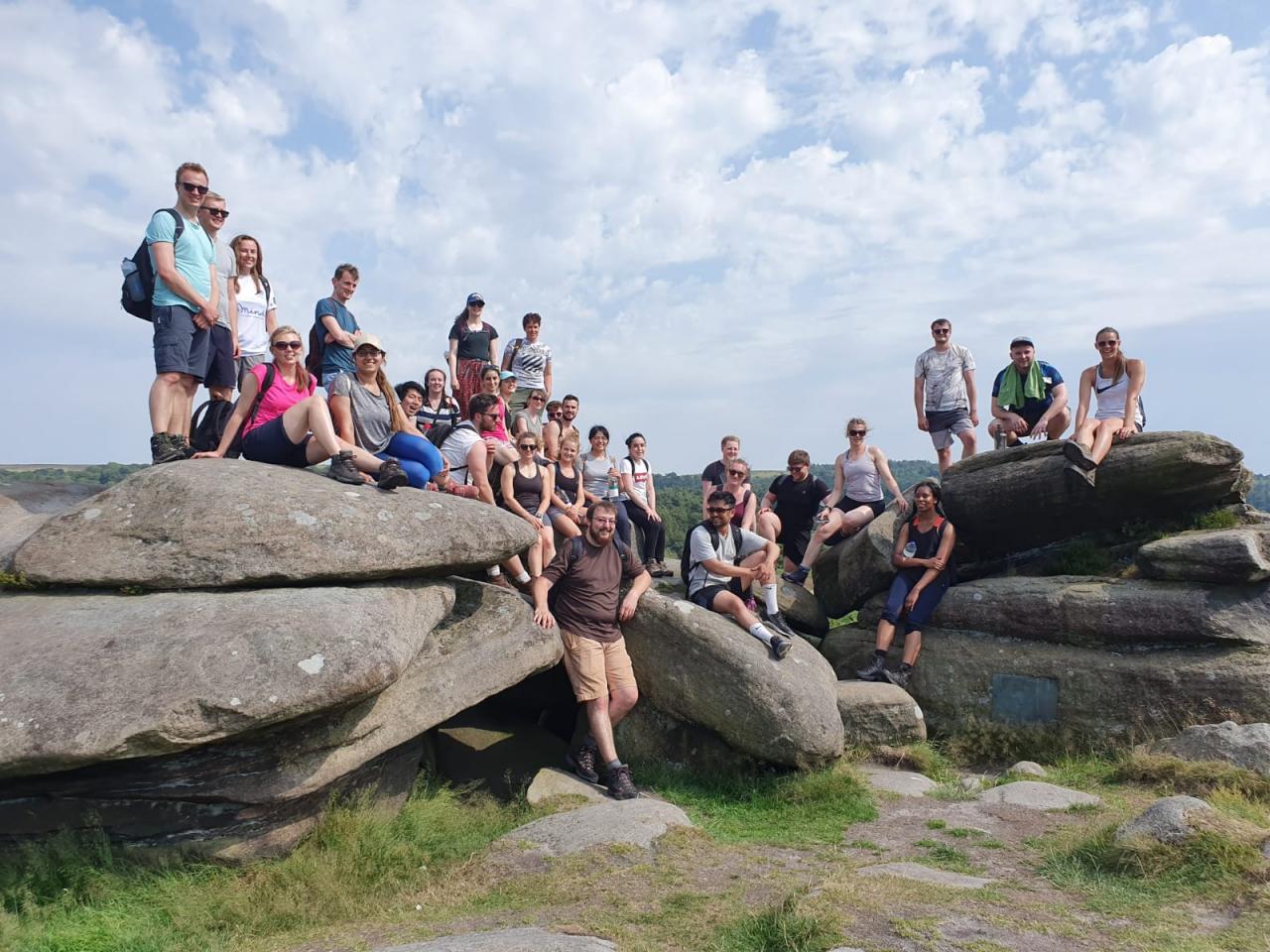 by Neelam Mughal (Cohort 3)
Being a part of the CDT in Sustainable Chemistry, we are encouraged to take advantage of the interdisciplinary cohort format. To create a platform for cohort bonding and collaboration the Centre holds an annual team building activity.
Sharad, Aaron and myself set out to organise this year's event, which was an immense task. Having received suggestions from all cohorts, we started discussing ideas on how to create an enjoyable, engaging and inclusive event, specifically aimed at encouraging inter-cohort teamwork.
The event took place in a fantastic farmhouse location set in the heart of the Peak District. We were fortunate to participate in a variety of activities such as a group problem-solving activity, a guided hike through Hathersage and an action-packed day of watersports at Manley Mere Aquapark.
One of the main tasks was to come together and discuss ideas on how to change the way we currently conduct group research updates and the journal club. There was a lively discussion and everyone was bouncing ideas off one another, leaving us with pages and pages of valuable input and suggestions.
At last year's team building event, we had very stormy weather, but this time we ended up with the other extreme as the hike took place on the hottest day of the year. Despite the heat, everyone was still just as enthusiastic about the hike, and looking forward to the ice cream and river paddle at the end. On the final day we had several watersport activities, which was the perfect way to conclude the event. During our time in the Peaks, we had so many opportunities to talk to people in an informal setting with an evening BBQ and board games, but there was also a lot of time for science chatter and exploring potential collaborations.
Being part of a multidisciplinary Centre, CDT students are spread across different schools and departments, working on three different campuses. As a result of this, we have fewer opportunities to have informal meetings and discussions. Spending some time away from our labs and desks really allowed us to sit and talk about our PhD journeys so far, sharing advice and stories. In addition, the event has enabled all the CDT cohorts to take ownership of the way we move forward with monthly inter-cohort activities. We as the organisers gained valuable experience during the planning of the event including liaising with external suppliers, negotiation, managing the schedule and ensuring the event went smoothly. The feedback we received clearly shows the event successfully fulfilled its purpose and we hope it is even better next year.
Sharad, Aaron and myself would like to thank everyone for their participation and great enthusiasm despite the hot weather. This really contributed to the amazing atmosphere throughout the event!