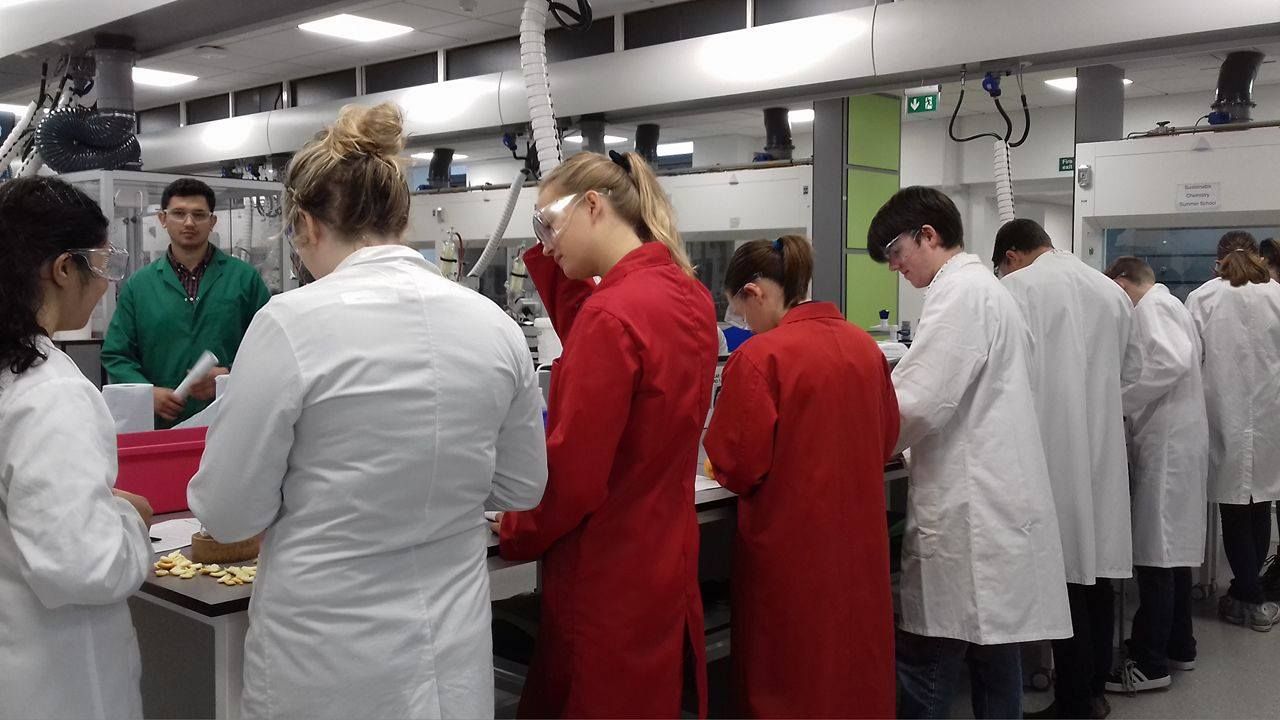 As part of the University of Nottingham widening participation programme, second year CDT in Sustainable Chemistry students develop and organise a Green Chemistry Masterclass aimed at Year 12 students from the East Midlands. This year's event took place on 1 and 8 March.
Building on the success of the Masterclass in 2016, Dr Sam Tang and CDT in Sustainable Chemistry PhD candidates welcomed a group of A level students to the University of Nottingham to learn more about Sustainable Chemistry and how experiments in the lab can be carefully planned according to the 12 Principles of Green Chemistry.
The students were given an introduction into the fundamental principles of Sustainable Chemistry and then they moved to the laboratory where they could put these principles into practise. Under the supervision of PhD candidates, they had the opportunity to weigh chemicals, set up reactions and purify products. All the experiments demonstrated how old-fashioned ways of doing chemistry can be substituted by new more sustainable methods, which for example, produce less waste and use more benign solvents.
Some of these experiments focused on how light can be utilised to promote chemical reactions in flow. The students were also introduced to innovative and modern items of laboratory equipment, such as a flow photochemical reactor. This machine permits the constant production of compounds with no need for heating at high temperatures, thus saving money and energy.
All the experiments were designed by the Cohort 1 and Cohort 2 CDT students as part of their mandatory outreach training. PhD candidates were enthusiastic to take part in the masterclass and keen to inspire new generations of students to take an interest in green chemistry and consider it as a degree subject at the University.
The impact of this event has been twofold. The session gave the A level students an insight into studying at university level and they felt more confident about starting a university programme and more comfortable about what to expect from university life.
The CDT students gained valuable experience in developing and delivering lectures and experiments, time management, lab supervision and science communication.