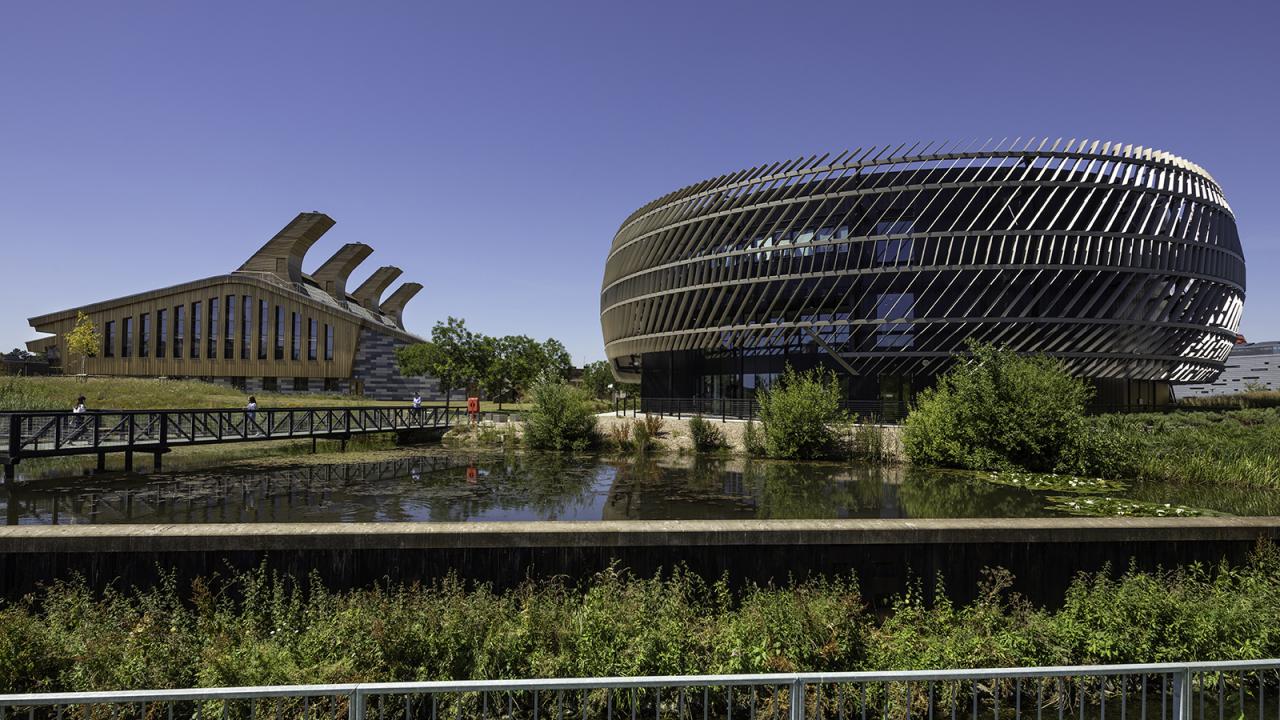 The University of Nottingham has won new funding for five centres that will train the brightest postgraduate researchers to tackle pressing global challenges, and keep the UK at the cutting edge of scientific research.
The Centres of Doctoral Training (CDTs) are funded by the Engineering and Physical Sciences Research Council (EPSRC), with partners in industry adding to the overall investment. Two of the CDTs have received funding from Science Foundation Ireland.
The University is also involved in a further three new centres led by other institutions, enabling Nottingham's expertise to be shared with more than 450 students who will have access to an outstanding research environment and unrivalled opportunities.
The announcement, made today (4 February) by Universities and Science Minister Chris Skidmore, takes Nottingham's portfolio of cohort-based doctoral training programmes to 43 – thought to be one of the largest in the country.
Professor Dame Jessica Corner, Pro-Vice-Chancellor for Research and Knowledge Exchange at the University said: "This is an outstanding result for Nottingham and once again testament to the quality of our research.
"We are committed to investment in world-leading discovery and in a highly competitive field we have shown that our teaching, research and training environment offers unparalleled opportunities for us to help solve global problems.
"Our unrivalled network of CDTs are complemented by Beacons of Excellence, which further focus our transdisciplinary research excellence to address complex global challenges.
"The CDTs announced today will be at the forefront of helping the UK secure a skills-rich, low-carbon economy. By strengthening our collaborations with industry, we will help deliver new products that are created by green chemistry, discover cleaner fuel sources and design new medicines to transform healthcare. We will also answer the unprecedented challenge of ensuring that personal data is used across society in creative, life-enhancing and ethical ways.
"It is also tremendously exciting and gratifying that this government investment is supporting key pillars of the University's mission: to attract and retain world-class talent, and train and nurture the research leaders of tomorrow.
"These hundreds of students, drawn from the University, the UK and across the world in a highly competitive selection process, will form a formidable cohort. These exceptional young researchers, led by world-renowned experts in their fields, will make significant contributions to a globally competitive, agile and innovative UK economy, today and in the future."
Mr Skidmore said: "As we explore new research to boost our economy with an increase of over £7 billion invested in R&D over five years to 2021/22 – the highest increase for over 40 years – we will need skilled people to turn ideas into inventions that can have a positive impact on our daily lives.
"The Centres for Doctoral Training at universities across the country will offer the next generation of PhD students the ability to get ahead of the curve. In addition, this has resulted in nearly £400 million being leveraged from industry partners. This is our modern Industrial Strategy in action, ensuring all corners of the UK thrive with the skills they need for the jobs of tomorrow.
"As Science Minister, I'm delighted we're making this massive investment in postgraduate students as part of our increased investment in R&D."
The newest CDT at Nottingham is in Sustainable Hydrogen and led by Professor Gavin Walker in the Faculty of Engineering. The CDT will work in partnership with industry and policy stakeholders to train the leaders needed to translate to the market the novel, disruptive hydrogen solutions required for deep decarbonisation, enabling the UK to meet its 2050 target for carbon reduction.
Professor Walker said: "This is a really exciting time to be researching hydrogen technologies. There will be big changes to the energy system in five to ten years and there is a need for hydrogen energy innovation leaders to successfully transition the UK towards a low carbon economy.
"The government's Clean Growth Strategy identifies deep decarbonisation challenge for the UK, especially for sectors where there has been little reduction in carbon dioxide emissions like heat and transport and also the need for energy storage to facilitate growth of renewables power.
"At the University of Nottingham our cohort training approach will deliver research leaders with the transdisciplinary understanding of the science and engineering limits of hydrogen technologies, along with an appreciation of the barriers to the market (including legislative, economic and societal). This is the skill set needed to transition hydrogen innovations into the energy system."
More than 40 key industrial stakeholders expressed support for the CDT. Dr Rachel Smith, Executive Director for ITM Power, commented "ITM Power manufactures integrated hydrogen energy solutions for grid balancing, energy storage and the production of green hydrogen for transport, renewable heat and chemicals. We are delighted to support the Sustainable Hydrogen CDT and excited about both the multidisciplinary research that will be undertaken, and the training of future hydrogen leaders to join our growing industry."
The Nottingham-led CDT in Sustainable Chemistry: Atoms-2-Products, is led by Professor Pete Licence. The Centre will work closely with industry to develop new processes to produce everyday items such as pharmaceuticals, fragrances, agrochemicals and food with little or no environmental impact or waste. It will train students to apply green and sustainable chemistry to develop these products providing a pipeline of talented recruits for UK industry who have experience of making products in a smart, faster and better way.
Pharmaceutical giant AstraZeneca were one of 20 industry partners expressing support for the CDT saying: "We believe the opportunities available from participation in the CDT will provide its graduates with highly effective, entrepreneurial skills to take forward and drive a sustainable chemical economy."
Dr Snow Stolnik in the School of Pharmacy will lead the CDT in Transformative Pharmaceutical Technologies, equipping 60 doctoral scientists to drive innovation in the pharmaceutical and healthcare sectors, designing and developing new medicines.
Powerful new therapeutic molecules, arising from advances in drug discovery and biotechnology, offer the potential to redefine completely the treatments of degenerative, genetic, autoimmune diseases, or cancer, if the delivery challenges can be properly addressed. Solutions are needed to achieve transport of complex drugs across formidable biological barriers, to ensure precise delivery at subcellular locations to target tissue, and to control exactly the drug concentration at the site of action. The CDT brings together academic and industry researchers from start-ups, small-to-medium, contract research, and big pharma businesses in this challenging and inspiring research.
Pfizer is one of the industry partners that supported the CDT saying: "Pfizer regards the development of highly-skilled pharmaceutical sciences PhD graduates as vital in making the UK a highly attractive place to carry out research and development.
"Investment in this new CDT is important to create the next generation of science leaders in an inter-disciplinary and collaborative environment, as scientific excellence and novel world-leading research is considered fundamental to the journey of a molecule to a medicine."
Professor Mark Ferguson, Director General of Science Foundation Ireland and Chief Scientific Adviser to the Government of Ireland, said: "Science Foundation Ireland is delighted to collaborate with EPSRC on this excellent programme. Ireland and the UK are key drivers of impactful, world-leading research and it is important that we continue to strengthen our partnerships. The level of investment in the Centres for Doctoral Training is significant, and represents our commitment to prepare graduates for careers in research and beyond, and the emphasis we place on progressing international alliances and global opportunities for our researchers. I would like to congratulate the seven SFI Research Centres on their success in this programme and look forward to working with EPSRC over the coming years."
The CDT in Creating Our Lives in Data, is led by Professor Steve Benford from the School of Computer Science. The centre will train a community of 65 future leaders to harness digital technologies to make smarter products in smarter and responsible ways. The centre brings together leading figures from computing and engineering as well as the social sciences, business and humanities, including researchers from the Centre for Computing and Social Responsibility at De Montfort University, and is co-funded by over 40 industry, third sector and international partners.
John Tobin, the Development Director at Broadway, is one of the industry partners supporting the CDT. He said: "The cultural sector needs people who can innovate with technologies in ways that are both creative and responsible."
The CDT in Resilient Decarbonised Fuel Energy Systems is led by Professor Robin Irons of the Faculty of Engineering. It sets out to support the UK energy sector at a time of fundamental change. Its goal is to allow us to support major reductions in society's carbon footprint by finding radically different ways to operate our existing energy systems to reduce or eliminate their carbon dioxide emissions and address climate change concerns. The Centre will seek ways to repower major industrial processes with carbon neutral fuels such as hydrogen or biomass and will also look at ways that carbon dioxide can be used as a chemical feedstock rather than emitted to atmosphere as a waste gas.
In support, industry partner GE Power wrote that the CDT was "an area of research which is critical to ensuring carbon reduction targets are met within the UK."
Nottingham has also partnered Newcastle Universities for CDTs in Geospatial Systems and Power Electronics for Sustainable Electric Propulsion and Bristol University for a CDT in Future Innovation in Non-Destructive Evaluation.