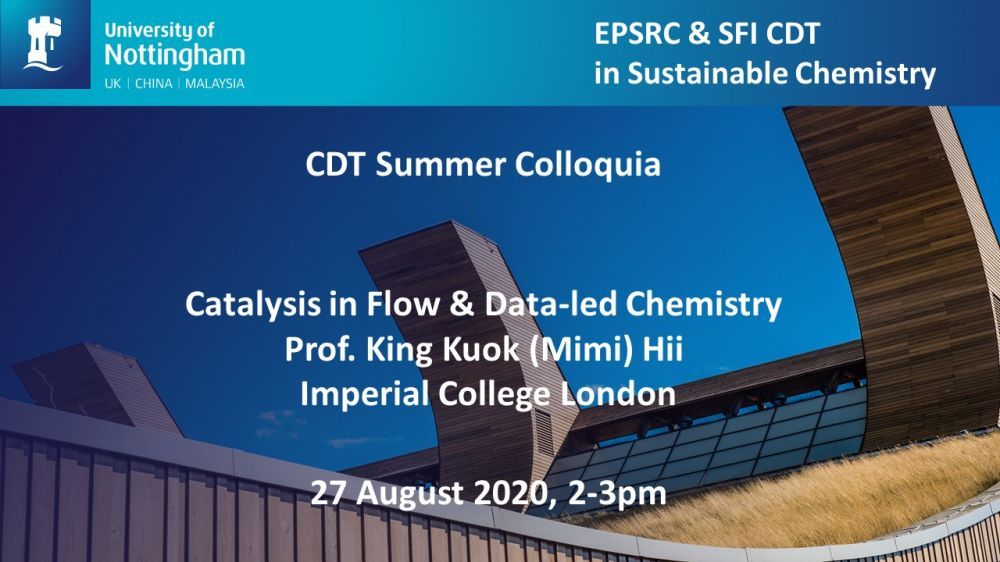 27 Aug 2020 - 27 Aug 2020

Programme
Talk title: Catalysis in flow & Data-led Chemistry
Speaker: Prof. King Kuok (Mimi) Hii, Department of Chemistry, Imperial College London, UK
Abstract: The presentation focus on the advantages of utilising continuous flow technology to enhance the efficiency of heterogeneous catalytic reactions, in ways that cannot be achieved easily in conventional batch reactors. A number of case studies will be drawn from our work in the past decade, to demonstrate how a deeper understanding of reactions can help us to design better and more efficient processes. The talk will finish with a discussion on the impact of data on the landscape of synthetic chemistry.
Speaker's Biography: More information about prof Hii's reserch can be found here.
If you would like to attend this online lecture, please email Peri Williams on perislava.williams@nottingham.ac.uk.